"Exclusive Range of Self Adhesive Metalised & Holographic Tapes, Films for Sports Equipment, Hula Hoops and decorative uses"

Holographictapes.net is the online showroom of Spick Global to showcase a wonderful range of holographic tapes & films we produce and export to over twenty one countries spanning USA, Australia, South Africa, UK, Germany, France, Spain, Italy, Netherlands, Czeh Republic, Slovenia, Russia, Denmark, Turkey, Philippines, Thailand, Canada, Mexico, Chile, Poland, Japan. Our range is gigantic for achieving interesting designs and effects for applications covering Hula Hoops, Sports equipment, entertainment (rhythmic gymnastics equipment, sticks twirling, majorettes, golf clubs, hula hoop making, surfboards, skate-board, ski poles, bicycles, riding equipment, dancing, roller skating, car tuning, circus, magic, shop for fishing lures, weddings, fashion, film, theater, TV trays,Stationery applications and a new and exclusive product "The Pest Repeller tapes"...
We have unique selection of colors, sizes and designs.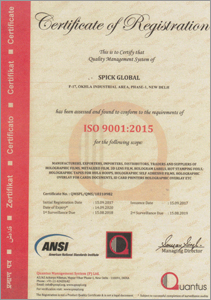 Why Us?

Spick Global is deemed amongst the industry leaders for the manufacturing and export of Holographic Films, Holograms, Holographic Tapes manufactured using high-grade constituents and cutting-edge technology, thereby conforming to the highest standards. After production, the range is transferred to the quality-management department in order to validate the quality characteristics. Further, our transparent dealing policies, fair business strategy, quick delivery, client-convenient payment options and market-best prices have stood us a preferred name in the industry. We always boost our urge to try and establish ourselves in both local and overseas markets through boldly executing our ideas and extending the scope of our domain knowledge. Our efforts transcend past boundaries of excellence and innovation to advance the production and quality of product line.